JYJ3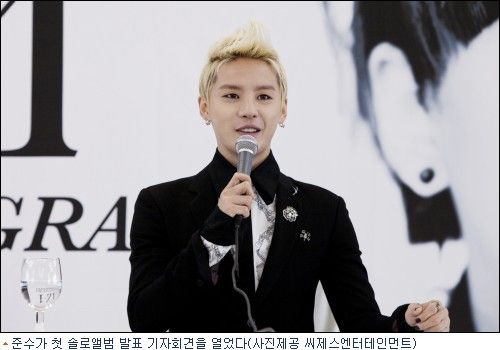 Releasing his first solo album in 8 years since his debut, Kim Junsu said he has both senses of responsibility and excitement.
Kim Junsu said at the press conference at the Lotte Hotel in Sogongdong, Seoul, on May 16, "I thought my trump card would be doing music different from established, existing music. On the one side, that put some burden on my shoulder. On the other side, my heart was aflutter in anticipation of doing and making the music that I wanted to do."
Kim Junsu composed 8 songs out of the total 12 songs in his album, which includes various genre from dance music to ballad and hip-hop to hands-up electronics. In addition, He showed his flexible attitude toward music in the collaboration with GaeKo, Flowsik, and Bizzy.
Kim Junsu is scheduled to hold a two-day concert in the Jamsil Stadium in Seoul and to tour 7 other…
View original post 901 more words